6 Best Bitcoin Games for Android
Note, none of these games uses real bitcoin, bitcoin transactions, online gambling, poker games or casino bitcoin, but are game apps that serve only as entertainment games.
While this may seem like your average idle clicker game where you click on the screen to get some sort of in-game currency, after playing it for a bit you'll see that it's filled with different events and things to do. Of course, the main premise of the game is mining bitcoin, which is the game's currency. The faster you tap, the more bitcoins (BTC) you earn to your game's wallet. The game also offers many upgrades and tools that help you mine to either mine faster or mine for you. It doesn't require you to spend any money on it, though you can if you want to speed your progression up.
Within the app, players can play bitcoin, invest it, spend it, or even play in the casino's bitcoin slot.
The pleasing visuals are complete with many fluid animations and intricate details. Another noteworthy point of the game is its witty sense of humour, be it from the main character or the news headlines at the top of the screen. The gameplay itself, while simple, is very addictive and makes you keep coming back for more. This game balances the excitement and satisfaction of such a simple concept surprisingly well while managing to offer hours of free entertainment.
It is also available for iPhone ( and other iOS devices).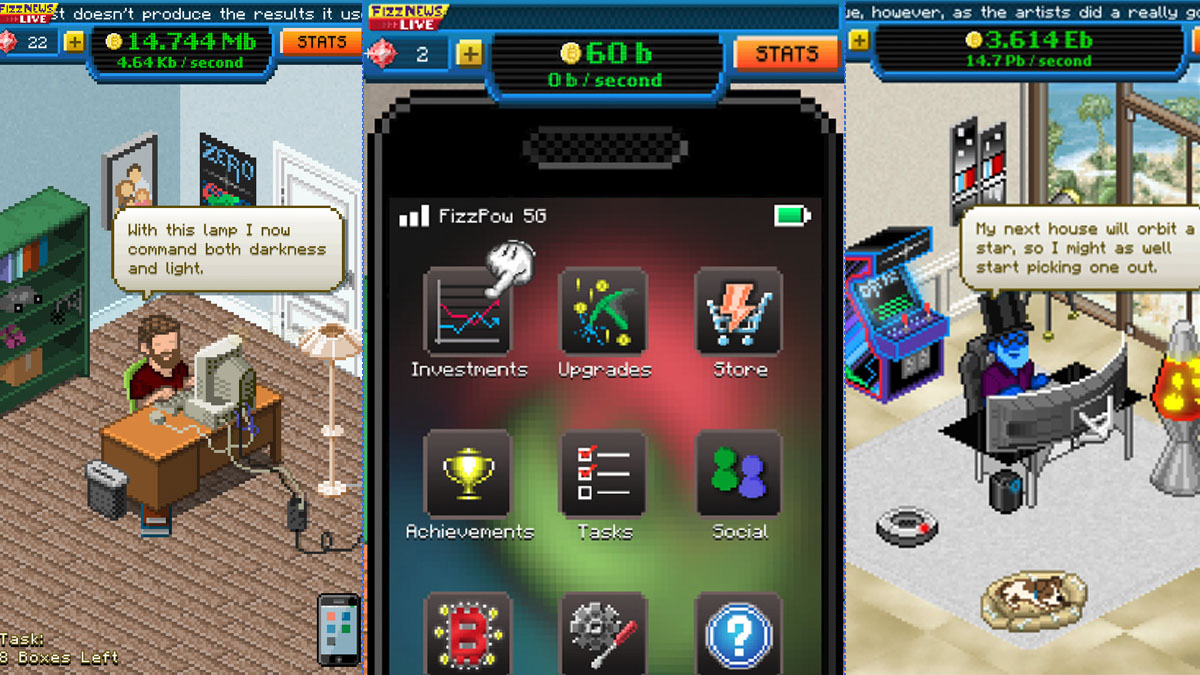 Price: Free
Review: 5/5
The point of the game is to mine, buy and sell in-game cryptocurrencies using various methods, such as an exchange, a bookmaker and your computer. At first, this mining simulator can be a bit overwhelming and might take a while to adjust to since there are so many things to keep track of. There seems to be no way to access the tutorial if you wanted to read through it again after completing it. That being said, if you get the hang of the game, you'll probably be playing it for a while. The amount and variety of content, the different establishments, the many approaches you can take when trading your in-game cryptocurrencies makes you feel like an actual trader. Just like the previous game on this list, it's free, but you can still pay to access better upgrades than those that are offered for the in-game currency.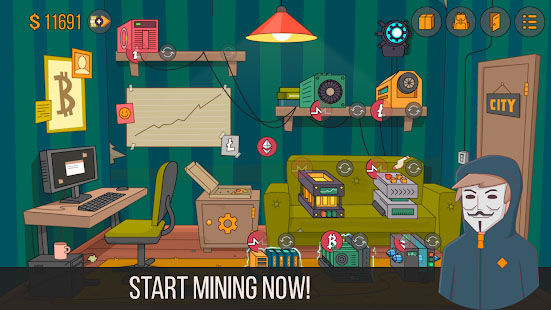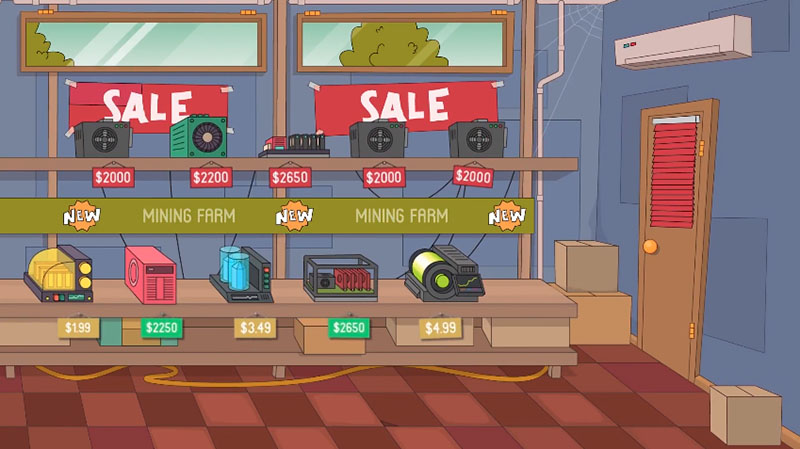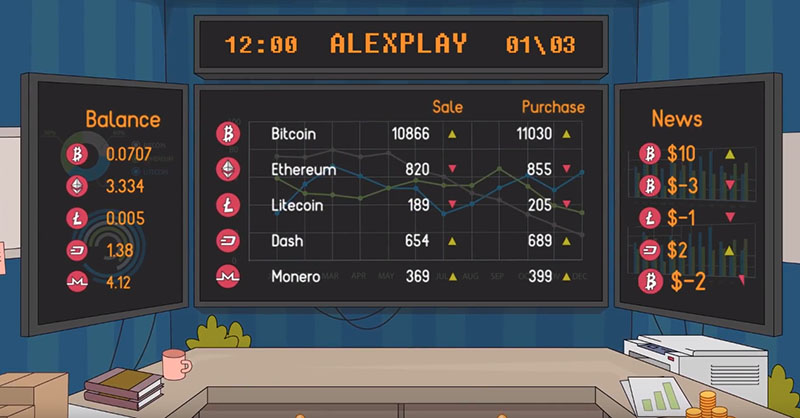 Price: Free
Review: 4/5
Idle Bitcoin Inc is similar to other clicker games on the Play Market in the sense that you click to generate currency and unlock different upgrades, or underground levels in this case, that make the process more automated. This game consists of you clicking many pairs of the same two buttons: one is to put your money into upgrades and the other one depends on the level, be it to mine bitcoin, make helpful robots, or store your money in a safe. The game is free but offers another currency that you can buy with real money with which you can buy upgrades that speed up the bitcoin making process. Some people may become bored of it after a while since there isn't much diversity of gameplay and since it isn't trying to do things too differently from other games in its genre, but I feel that it's a good time waster and is enough to keep you entertained if you're feeling bored.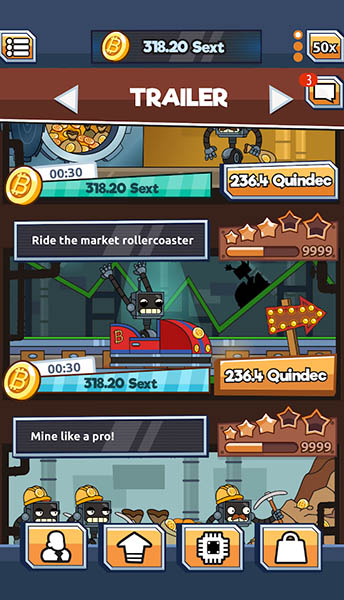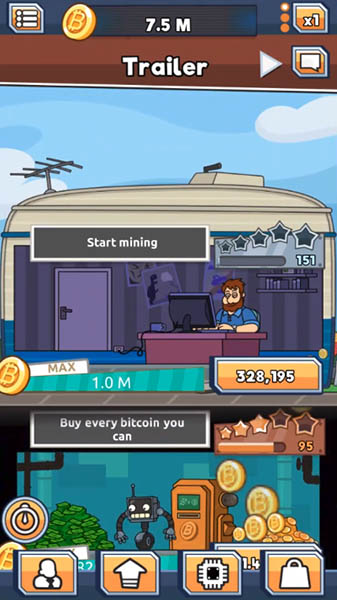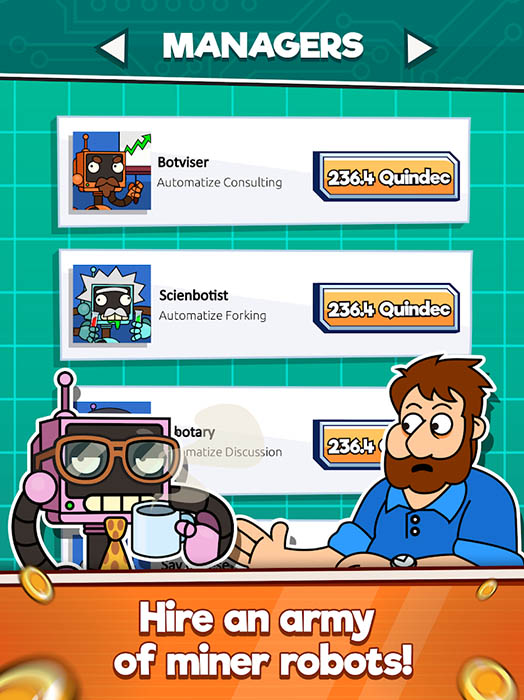 Price: Free
Review: 3/5
The Crypto Games: Bitcoin Tycoon is another mobile game in which you mine bitcoin (BTC) to buy upgrades to then mine more bitcoin. This game is similar to the previous entry, as it incorporates the aspect of buying and upgrading buildings in order to make your bitcoin mining process more automated. It also reminds me of Bitcoin Billionaire with its random events that you have to keep track of, such as viruses, bribes and boosters, as well as the constant pressing of a button to mine bitcoin. The game looks good visually and the representation of you mining bitcoin in the form of a console is also a nice touch. Like many of the other games on this list, Bitcoin Tycoon offers in-app purchases that can be used to increase your income at a quicker pace. I feel it faces the same challenges as Idle Bitcoin Inc. does, as it doesn't offer much gameplay variety. I also have to point out the poor translations in some places, though I assume they will be improved in later updates. Apart from that, I'd say it's a decent idle game. Even if it doesn't aim for anything big, it does what it aims for well.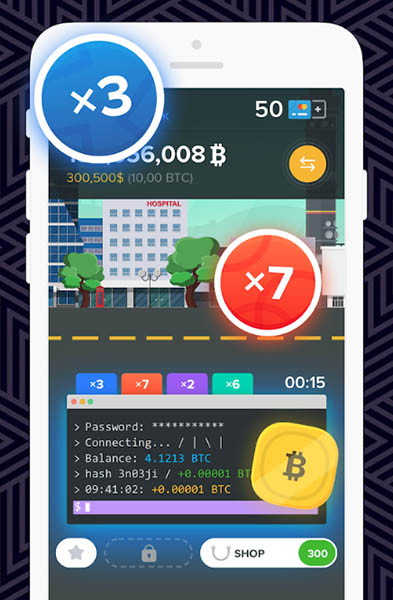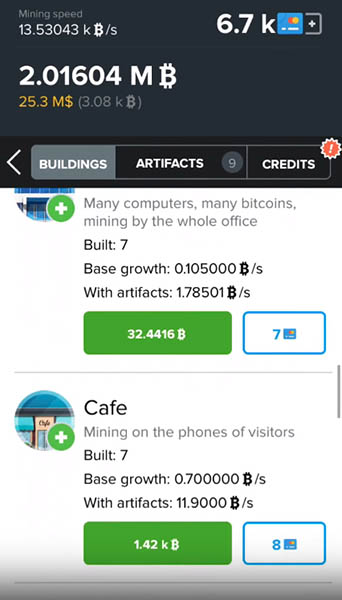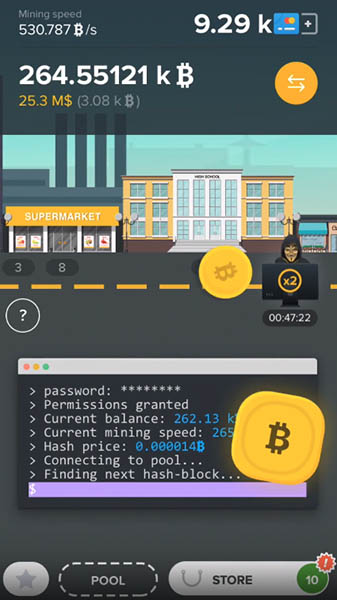 Price: Free
Review: 3/5
Wunderbit Millionaire is a tabletop card game in which you use cards to influence the prices of cryptocurrencies, that can be bought and sold in order to beat your opponents. Unlike the rest of the games on this list, Wunderbit Millionaire focuses more on simulating the process of trading cryptocurrencies on a cryptocurrency market, as well as the strategies you can employ to get a bigger return on your investments. The game is surprisingly addictive, as you're constantly trying to figure out the most optimal move, think ahead and outsmart your opponents.
Great gaming experience. Players have fours different cryptocurrencies to trade: Bitcoin (BTC), Ethereum (ETH), Litecoin (LTC) and Monero (XMR). There are different mode options as a bonus, such as events, a bank and bankruptcy, that make the game more realistic. You can't play safe all the time in this game, nor can you put all your earnings in one place. You need to be willing to take a chance, but also know when to hedge your bets, just like in real cryptocurrency trading. Apart from some visual inconsistencies and a few spelling mistakes, I can't point out anything bad about this game. Wunderbit Millionaire doesn't do anything too complicated and executes such a simple concept surprisingly well.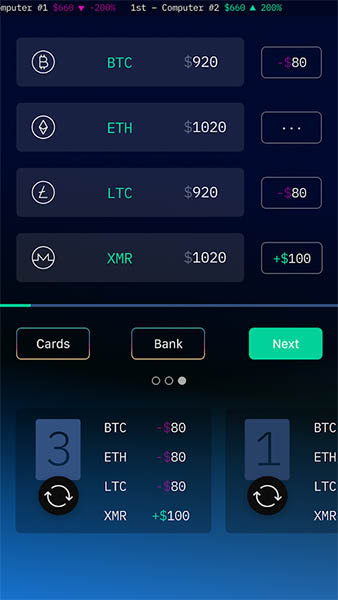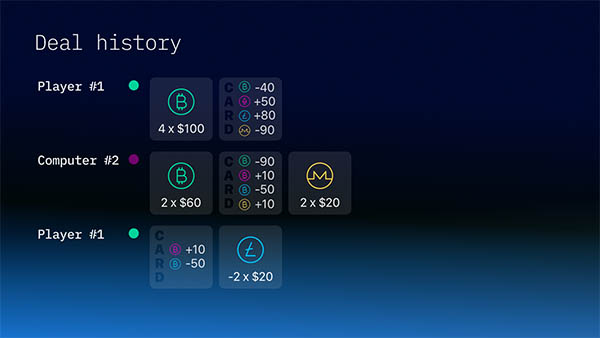 Price: Free
Review: 5/5
____________________
Try real automated trading at WunderTrading, use bots, copy-trade best traders and make a profit!