Growth
Volume
This was a great year for Wunderbit Trading. Growing at an average of 32.7% every month, the total trading volume of the platform for 2020 was 144,681,000 USD.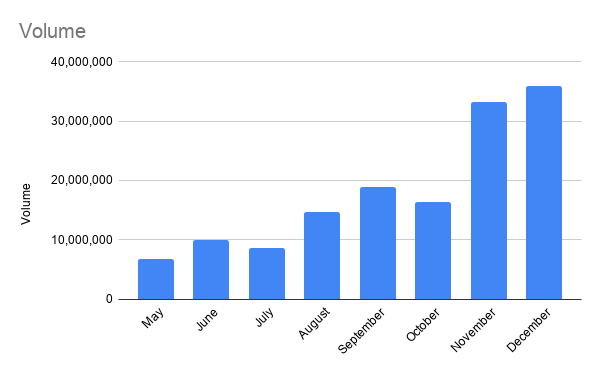 Users
Wunderbit Trading's user base grew at 28% on average each month throughout 2020. The total number of registered traders by the end of 2020 was 5210, while we saw MAU at 1482.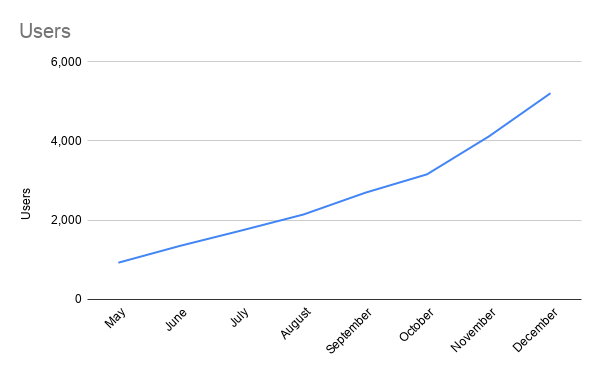 Supported exchanges
2020 was successful not only in terms of user and volume growth but also in terms of the development achievements. We've added FTX, FTX.US, Binance Futures, Bybit, HitBTC, Bitpanda PRO, Kucoin Spot, Kraken Spot, OKEX Spot, Deribit.
New features and products
Bot trading
In January 2020 we've launched trading bot automation for any TradingView study script. Later, once possible, we've also introduced strategy automation. There are over 1500 active trading bots on the platform that produce great results.
Copy-trading
Copy-trading was one of the core features of Wunderbit Trading from the very beginning. This feature has evolved tremendously during 2020. We've merged 2 different roles involved in the copy-trading into 1 single account, making it more flexible. The marketplace was introduced as a single meeting point to find the best traders and bots. Numerous stats, including Profit factors, Profit/Volume and many more now allow identifying quality traders and bots. We see 20% of our traders using copy-trading.
Portfolio
To extend the analytics and make it more familiar to beginner traders we've introduced the Portfolio section. It allows users to instantly have a simple overview of all connected accounts. Each user will be able to clearly see the distribution of coins in the wallet and the overall number of funds across different exchanges
Redesign
During 2020 we had multiple redesign sprints to make the user interface more comfortable to use not only on the desktop but also on mobiles. We feel that there is a lot more to be tuned. So expect more to come soon.
Spread trading
One of the very unique features that we've introduced is spread-trading, which is significant for futures traders. Spread trading is a way trading that is used widely in proprietary trading firms. It allows making synthetic pairs from any product. If products have high correlation it will make a low volatility product that can be profitably traded.
Infrastructure
Wunderbit Trading has been significantly revamped from what it was when we started. Infrastructure has been expanded dramatically by adding more advanced technologies and more flexibility in terms of development. Project is now ready to scale to any demand.
Source code commits: 535
Media and Education
Blog
Articles published: 72
YouTube stats
Views:71,764
Subscribers: 1.1k
Videos uploaded: 58
Plans for 2021
Infrastructure
The greatest improvements are to come in 2021 is the support more advanced tech of handling communication with exchanges allowing to have the lowest possible latency.
Features
Copy-trading paid subscriptions
DCA bots
Grid bots
Exchange integrations: BitMEX, Huobi, Phemex, OKEX futures, Coinbase PRO and more.
Mobile apps for iOS and Android
Portfolio management features
Trader's Diary
Options trading
Localisations of the user console