How to Buy Bitcoin with Credit or Debit Card
Many popular cryptocurrency educators say that you should start investing in bitcoin every month, it should be like adding to your savings account. Eventually, your strategy would be to unlock that savings account and spend these digital assets. For example, 30% of saving to unlock in 20 years, 40% more in 30 years, and then leaving at least 30% to your kids. That strategy would make you and your family better off.
Obviously, the high growth of Bitcoin may not happen. But what if the amount you would be putting away every month is as small as $20 or $50 of fiat currency, would you struggle? For some people, putting aside even $1000 every month won't make a huge difference. So, it is generally up to every individual to decide on the amount that he or she would be happy to invest in a bright future. Potential gain can be so high that the risk is probably worth it. However, it depends on many factors and may not be that easy:
Do you really need to understand what bitcoin is?
You have to understand how it all technically works.
In this article, we'll look at what is bitcoin and what you should know to get more advanced. And then we'll look at more practical issues of bitcoin: how to buy one and how to do it in a clever way.
Should You Invest In Bitcoin?
Opinions of crypto pioneers on whether you should invest in bitcoin right now that we've asked at the Baltic Honeybadger 2019 vary. Most bitcoin users simply say yes, but some answers were not that simple.
Jimmy Song (author of "The Little Bitcoin Book" commented on the question if you should consider investing in Bitcoin – "It depends if you really understand it and you're willing to hold it for the long term, then absolutely. There are a fixed supply and increasing demand, it is a hedge against central banking cartels and things of that nature, it is very good for the long term investment, but for a large number of people it is a speculative asset, its gamble, online poker, something like that, in which case I say – No, in 6 months you probably going to sell it when it doubles".
Should I Buy Bitcoin Now?
Most people who haven't bought bitcoin earlier ask "Isn't it too late? The price of bitcoin is high at this moment."
If you have previously bought a bitcoin or read a book/article about it, you probably already own a bitcoin wallet. In this case, buying a bitcoin with a Coinbase is not the best option for you as it is more expensive than with other services.
In order to buy bitcoin to an online wallet, you can turn to an exchanger service – Wunderbit. Once the purchase is completed, the funds are sent to your bitcoin wallet. Further, in this article, you can find details on how to purchase a bitcoin in our step-by-step guides.
If you plan to start cryptocurrency trading, then buying crypto with the smallest commission should be your first step to showing profits on trading activity.
Fastest Way To Buy Bitcoin
There are plenty of options to buy bitcoin these days. Some of them are cheaper, some are more expensive, some are more/less trusted, safe, etc. However, sometimes, you may need a bitcoin fast. For example, to pay for some online services like hosting or VPN. There are a number of "it depends" if we look into details, but we'll try to keep it short.
In case you do not have an account at a cryptocurrency exchange yet, the fastest way to buy bitcoin is to use a brokerage service like Wunderbit and to buy BTC with a credit card.
Buying a bitcoin with credit/debit card will take only 10 minutes, and you'll receive the bitcoin in the next 20 minutes. This makes this option the fastest.
Cheapest Way To Buy Bitcoin
To buy Bitcoin with the lowest fees you have to compare not only cryptocurrency exchanges but also dive into the payment methods' fees. For example, at trading platform Wunderbit if you buy a bitcoins with a credit card it'll cost you about 6% on top of the exchange rate. The fee includes 5% of payment processor and 1% of Wunderbit.
However, if you buy a bitcoin with SEPA bank account transfer, then the cost will be only 1% – a fee of Wunderbit. This is probably the best offer to buy bitcoin on the market.
Apart from the payment method commission, you should bear in mind that some exchanges may include their commission in the exchange rate, thus to lower visible fee and to enhance their marketing offers.
To summarise, when buying a bitcoin you must be careful and look at not only exchange fees but also at the exchange rate and compare it to the most popular and trusted exchanges like Bitstamp or Kraken. The quickest way to compare which exchange offers better conditions is to compare the final amount of cryptocurrency that you're going to get.
What is The Best Bitcoin Exchange?
There are a number of popular cryptocurrency exchanges on the market, some of them allow you to store crypto, some do not. When it comes to buying Bitcoin you always want to make sure that the exchange rate will be the best on the market. However, as we looked at this issue in the section above, it is not that simple.
So we prepared a checklist for you to buy the Bitcoin at the best exchange rate and with the lowest fees and get the maximum amount worth of bitcoin.
What do you need to buy bitcoin?
1. Find a trusted exchange, ask for friends for reviews, look for exchange aggregators
2. Prepare personal documents (National ID, Passport or Driver's License)
3. Determine how you want to pay, choose the appropriate payment option
4. Get the cryptocurrency wallet and prepare the address of the cryptocurrency you want to buy
Notes on what to look for when choosing an exchange?
1. Exchange rate
2. Exchange commission of the exchange/broker
3. Commissions of the service partners, for example, for a payment card processing, it may be hidden
Notes
1. The fastest way to buy bitcoin or other crypto is by using a payment card, it is not the cheapest way, but a proven and fastest for sure. For example, at Changelly the commission is 5% of the broker + 5% of the card processing provider. Exactly the same service can be obtained at Wunderbit, where the commission is 1% + 5%, being 4% cheaper.
2. The cheapest way to buy bitcoin is by using a wire transfer (bank transfer). It is clear because in this case there is no intermediary in the form of a payment service processor that allows accepting credit/debit cards or electronic money, only the broker's commission remains.
3. Buying bitcoin is still an investment for many, a good idea is to purchase bitcoin worth at least $50 or $100 every month and accumulate it. Bitcoin's macroeconomic model is built to make it more valuable over time.
Sign up now or become a partner, spread the word about Wunderbit and get paid for each successful transaction!
How To Buy Bitcoin Without ID?
Buying Bitcoin with a credit card without verification is not possible. At least none of the regulated exchanges will allow it. However, some services allow you to buy a prepaid voucher that can be turned into bitcoin. Such a method allows merchants to skip identity verification. However, the amount of cryptocurrency that can be bought is insignificant in most cases.
What Bitcoin Wallet Should I Use?
There is no perfect solution right now on the market that everyone would agree to be the one and only crypto wallet. You can find more about most widely known, most secure and most trusted bitcoin wallets on the market in our review of best bitcoin wallets.
How To Buy Bitcoin With Credit Card?
Time: 10 minutes
At Wunderbit you can buy Bitcoin (BTC), Ethereum (ETH), Litecoin (LTC), Bitcoin Cash (BCH) Ripple (XRP), Binance Coin (BNB) and XLM (Stellar) with your credit or debit card instantly. You'll receive cryptocurrency to your crypto wallet in 10 minutes in usual circumstances. Registration is not mandatory, but you will need to verify your phone number, your email and submit your ID card.
User can choose one of the 17 fiat currencies, full list of supported fiat currencies include:
AUD - Australian Dollar
CAD - Canadian Dollar
CHF - Swiss Franc
CZK - Czech Koruna
DKK - Danish Krone
GBP - Pound sterling
HUF - Hungarian Forint
ILS - Israeli New Shekel
JPY - Japanese Yen
KRW - South Korean won
NOK - Norwegian Krone
NZD - New Zealand Dollar
PLN - Poland złoty
RUB - Russian Ruble
SEK - Swedish Krona
TRY - Turkish lira
ZAR - South African Rand
Following guide will explain how to buy crypto with a payment card Visa or MasterCard at Wunderbit. First purchase with a credit card at Wunderbit may take up to 10 minutes due to contact details verification. Further purchases will require even less time.
Here's a shortlist of what you'll be required to make a first time purchase of cryptocurrency with credit card:
Address of the chosen cryptocurrency that you're going to buy: Bitcoin (BTC), Ethereum (ETH), Litecoin (LTC), Bitcoin Cash (BCH) Ripple (XRP), Binance Coin (BNB), Tether (USDT) and XLM (Stellar);
Credit or debit card issued by Visa or MasterCard;
Image scans of your personal ID card (both sides), driver's license (both sides) or Passport
Email access to verify it;
Mobile phone to verify the mobile phone number.
Hint: using a debit card may be a better idea than using a credit card, such as banks are more likely to approve such transactions.
Note, some banks don't allow their clients to buy cryptocurrencies.
Step-by-step guide on how to buy bitcoin with a credit card
Step 1.
Go to WunderTrading Buy Crypto and choose the following things:
1) select the cryptocurrency you would like to buy
2) enter the amount of the purchase (Euro or US dollars)
3) enter your cryptocurrency wallet address
4) click Continue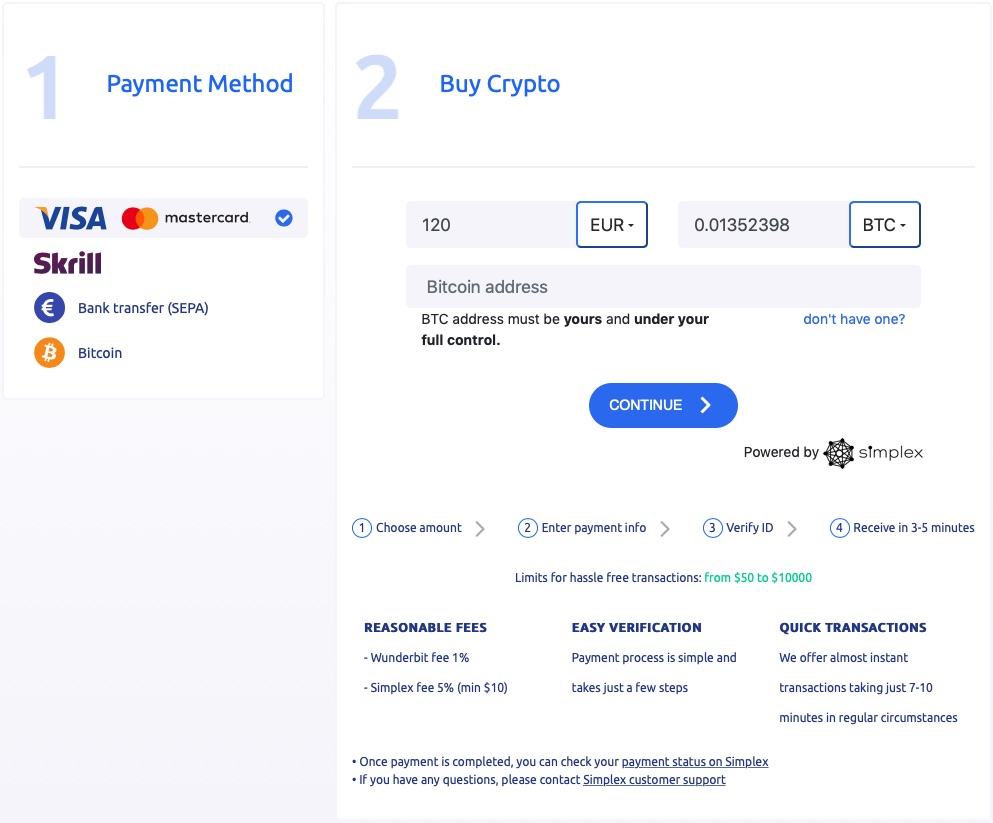 Step 2.
The order summary is available at the top of the window to check if the amounts you entered are correct.
Enter your payment card details, billing information and personal details. Make sure your billing address matches the details at your payment card issuer.
In the section Personal details, you should enter your phone number and email address, which must be verified. It means that an email with a confirmation link will be sent to your email and a special code will be sent to your phone. Once both confirmed you'll be able to proceed.
Note, it is important to type your email and phone number accurately, as failing to verify will not allow you to proceed.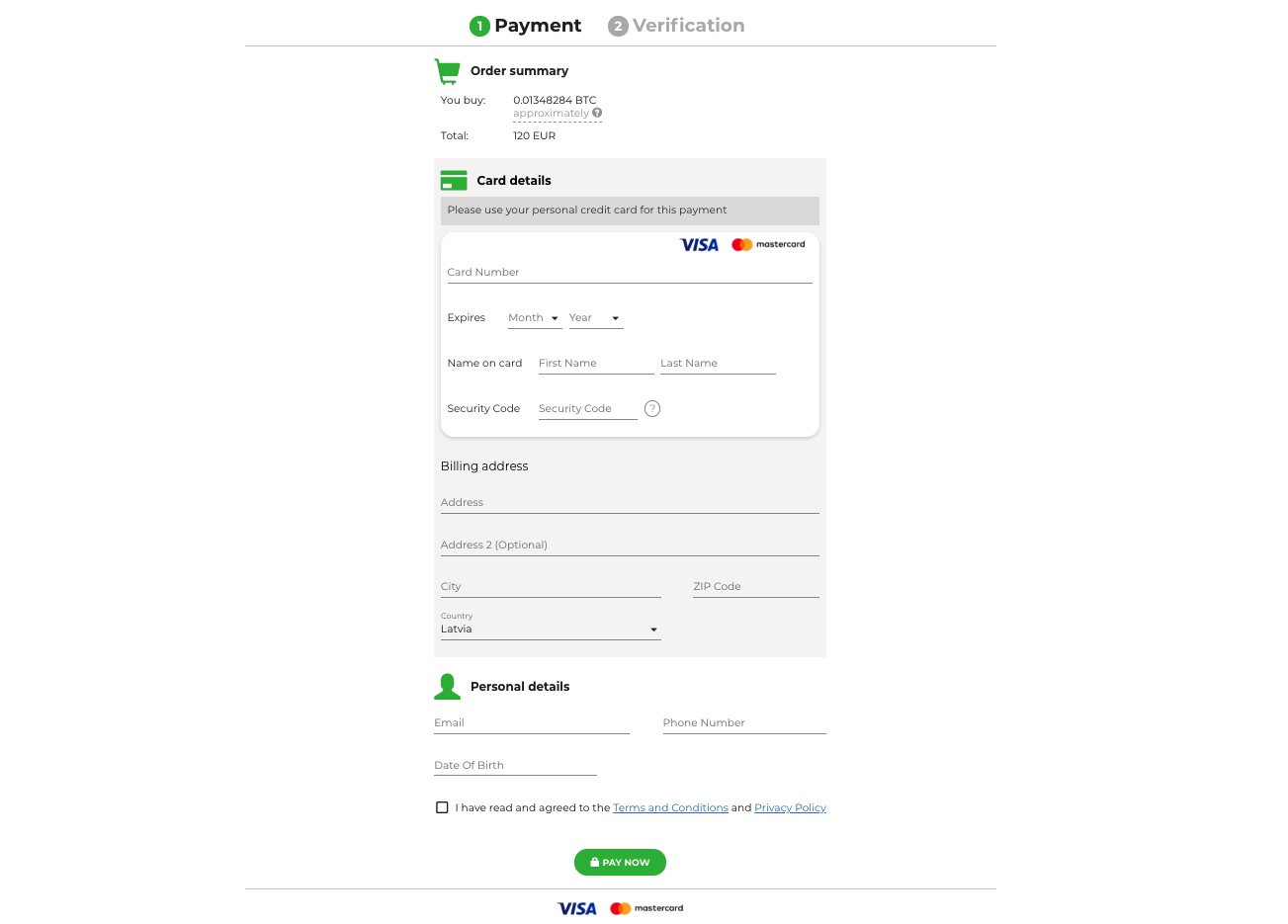 Note, your payment card will not be charged at this point. However, it'll be checked if the balance is sufficient. Once the balance is successfully confirmed you'll be asked to verify your identity.
Step 3.
At this point, you have to verify your phone number and email address. You'll need to do it just once – if you have plans to make more purchases in the future, you won't have to verify it again.
Once confirmed click Continue.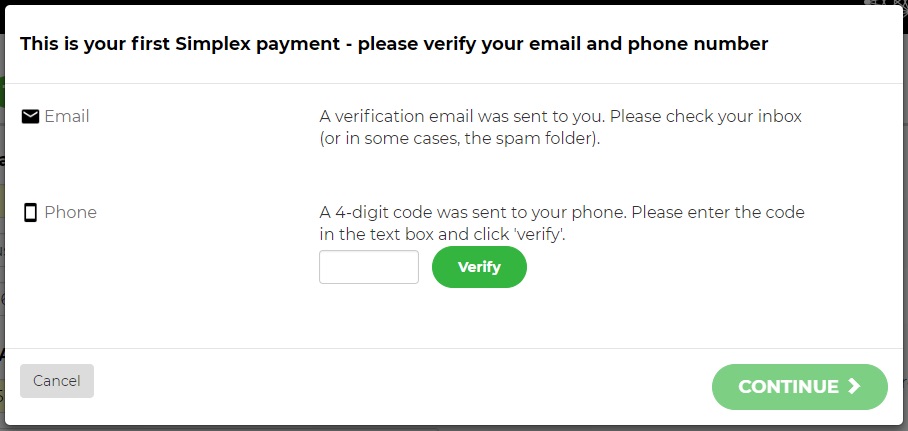 Step 4.
Further, you need to get verified by following a KYC procedure.
Select the type of document you wish to upload (national ID, Passport or driver's licence)
Upload the scan of the document you selected for verification
In some cases, you may be required to provide:
3DS – a code that your card issuer may send you to verify the transaction
Selfie – upload a selfie when holding your payment card. You'll see an instruction if it'll be required.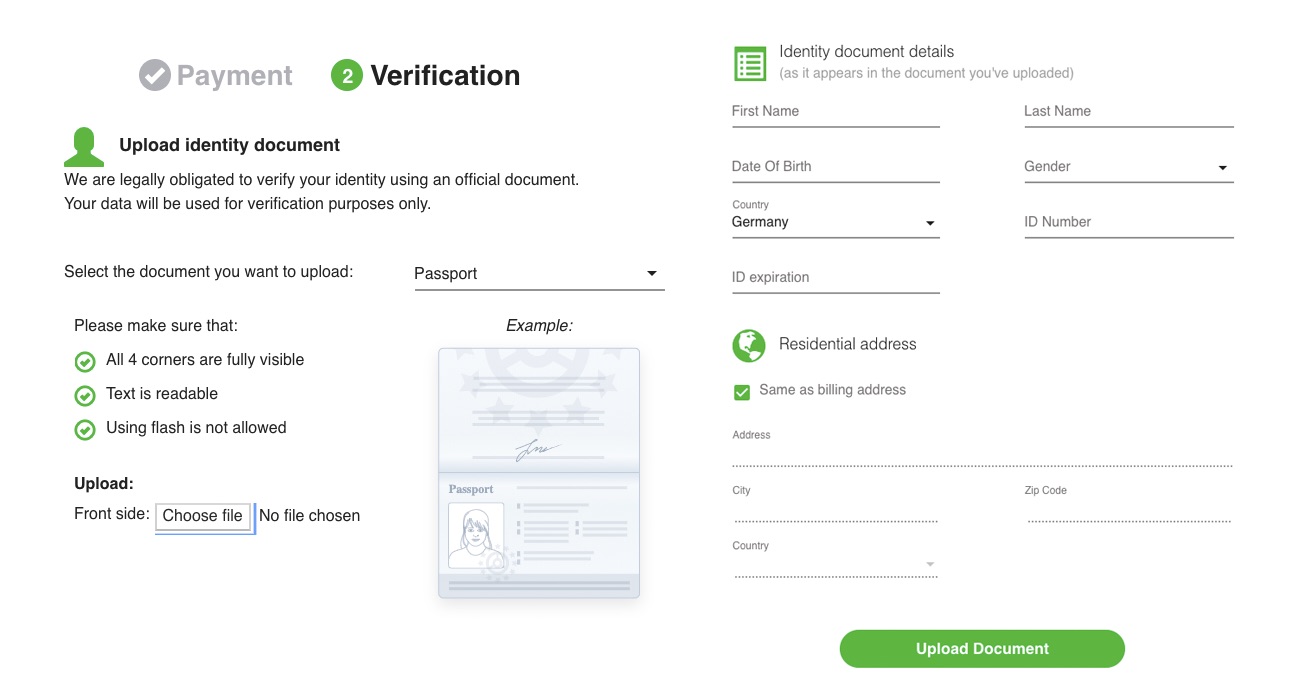 Step 5.
You'll see a message saying that your payment request is being processed. In a minute you'll receive an email stating if your payment was approved.

If all went well, the cryptocurrency you purchased will be in your wallet in approximately 20 minutes, depending on the blockchain. On very rare occasions, some payments may take up to 24 hours to process.
Payment card processing is done by Wunderbit's partner – Simplex, the leading service in payments.
How To Buy Bitcoin With Bank Account?
Time: 3 minutes
Commission: 5%
Buying Bitcoin with a bank account over SEPA is the cheapest way to buy Bitcoin across most cryptocurrency exchanges. The only disadvantage of that method is that you must have a bank account in Europe and the wait time can be up to two days.