17 Amazing Places to Spend Bitcoin
The Bitcoin you hold in your cryptocurrency wallet isn't simply an investment. It's a currency. And a revolutionary one at that.
With each passing day, more and more companies are starting to accept Bitcoin as a means of payment. Bitcoin transactions are not the cheapest, but some companies also accept other cryptocurrencies like Etherereum ETH and Bitcoin Cash BCH. Everyone from tech industry giants to your neighbourhood pizza place is entering the cryptocurrency world. And for a good reason. Bitcoin payments are quick, inexpensive, decentralized, and secure. Put simply, it's the payment system of the future.
There are some drawbacks, like the price of bitcoin is volatile. Though it can also be treated as an advantage for those who can earn on that through trading. But for those who simply buy bitcoin and hold it in the bitcoin wallet, once it increases in prices why not pay with bitcoin and buy few luxury things, for example, treat yourself a with a Montblanc Pen or a bracelet from Chopard for your girlfriend.
Where do you spend Bitcoin?
To help you get started with using Bitcoin as a currency, we've compiled a selection of 17 interesting places where you might want to spend your Bitcoin. Read on to find out who made our cut!

Tech and Retail Giants
There is a common myth that using Bitcoin as a primary payment method bars you from the ability to shop with large online retailers. But this is just a myth. While it is true that websites like Amazon are yet to adopt crypto, many other platforms have done it years ago.
On January 10, 2014, Overstock made headline news. On that date, it became the first retail giant to start accepting Bitcoin payments. And based on all publically available metrics, it appears that the move had been a right one for the company. Since then, Overstock has become the preferred online retailer for countless Bitcoin enthusiasts, many of whom had previously shopped with other retailers.
Newegg
Popular tech retailer Newegg has profited immensely from Bitcoin. Not only did they make a killing selling video cards and power supplies to miners during the crypto price boom, but they also allowed their store to reach a whole new audience of tech enthusiasts by adding Bitcoin as a payment method at checkout.
The American tech giant began accepting Bitcoin back in 2014. And it looks like they're happy with that decision because they've never looked back. The most popular way of using Bitcoin on Microsoft's website is as a method of adding funds to your account.
Virtual Private Networks
Using a virtual private network is one of the best things you can do to improve your online security instantly. Listed below are two VPNs whose acceptance of Bitcoin payments was tested by our staff.
One of the earliest Bitcoin adopters on our list, PureVPN adopted BTC payments back in 2013. The company's basic VPN service is available for as low as $3.33/mon and a 31-day money-back guarantee is offered.
If PureVPN isn't your cup of tea, then you might want to look at ExpressVPN. The popular virtual private network has been accepting Bitcoin payments for almost 5 years now. And they show no signs of dropping support for the cryptocurrency anytime soon.
Find more Best VPN services in 2020 reviewed by ProPrivacy.
Causes and Charities
If you feel in a particularly charitable mood, you can use your Bitcoin to support a wide variety of different causes and charities. Listed below is just a small selection of the options available to you.
The world's largest and most-read encyclopedia has been accepting Bitcoin payments for several years now. A good place for getting a basic overview of almost any subject, Wikipedia has helped countless millions of people learn new things. Chances are Wikipedia was one of your first stops when you wanted to find out what this whole "Bitcoin" thing was about.
Greenpeace is a non-governmental organization that specializes in environmental protection. They've been accepting Bitcoin donations since 2014.
The International Red Cross and Red Crescent Movement is the world's largest humanitarian effort. The Red Cross' main goals include the protection of the life and health of human beings, as well as the reduction of human suffering.
The Libertarian Party (USA)
Being fully decentralized and free of any form of government control, Bitcoin has always been popular with followers of the ideas of classical liberalism. So perhaps it should come as no surprise that the Libertarian Party accepts donations via Bitcoin.

Gift Card Vendors
The most obvious way to use gift cards is, of course, as gifts for your family and loved ones. In the Bitcoin community, however, gift cards are often used as a workaround to buy from retailers who are yet to adopt Bitcoin (such as Amazon.com). The process is quite simple. Just purchase a gift card with your Bitcoin, send it to your email address, and redeem it on the target vendor's website.
Gyft is one of the world's most popular online gift card sellers. Their website offers a wide selection of gift cards and we can attest to the high quality of their customer support.
eGifter
eGifter is a good alternative gift card seller for those who cannot find what they're searching for on Gyft or cannot use Gyft for some reason.

Miscellaneous Online Services
Some online vendors on our list didn't fit into any of the other categories. So we listed them here.
Namecheap is a California-based company that sells internet domain names and provides web hosting services. Top level domains start at as little as $0.88 and web hosting starts at $2.88/month.
Online gambling is a touchy topic for many people, but it's also a subject that's impossible to ignore. There are countless hundreds (if not thousands) of online casinos that allow you to gamble using Bitcoin. We choose Bitcasino.io for this list because it comes up as the top result on Google and we appreciate good search engine optimization.
Bitcoin Gifts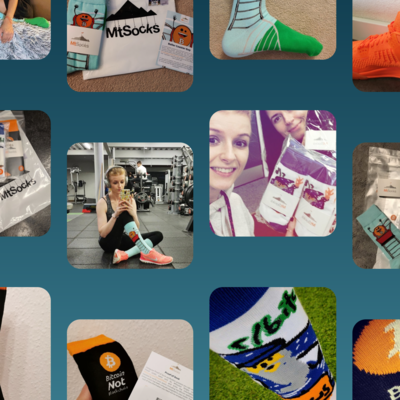 Cool crypto merch is always exciting! Check out these great crypto gifts – socks with crypto/bitcoin slogans. Might be a great gift to a friend who is deep in crypto.
Travel Companies
Depending on whether you're doing it primarily for leisure or for business, you can think of travel as being either be a pleasure or a chore. Regardless of your opinions of it, travel is something you can pay for in Bitcoin.
Back in 2014, AirBaltic made headline news by becoming the first airline to start selling airplane tickets for Bitcoin. Since then, dozens upon dozens of international airlines have followed in its footsteps. Tracking down every single one of them can be cumbersome, so we recommend using a website like BTCTrip to conveniently search through all the Bitcoin air travel options. Simply go to the BTCTrip website, choose your flight path, and press the search button to see all of your available options.
If you prefer a more ready-made solution, you'll be happy to hear that the world's largest travel company, Expedia, accepts Bitcoin payments. The website allows you to conveniently book hotels, flights, and buy packaged holidays online.
Offline Vendors near You
Although many people do not know it, tens of thousands of small to medium-sized businesses have already started accepting Bitcoin. It could very well be that neighbourhood pizza place or coffee shop has been accepting Bitcoin payments all this time, and you've simply not been aware of it. To find out for sure which shops in your area support BTC payments, we recommend using Coinmap 2.0.
How to accept Bitcoin payments if you're a merchant?
One of the easiest ways is to use our platform, a payment processor – Wunderbit Commerce. Payment gateway of Wunderbit allows you to accept bitcoin.
You'll find a 3-step tutorial in this link, but basically, all you need to do are these 3 things:
Create a WunderBit Business Account
Build a Sales Flow
Accept Bitcoin from customers, receive Bitcoin BTC to your wallet or euro to your bank account!
Right now list of accept cryptocurrencies include Bitcoin BTC, but the plan is to add Ethereum ETH, Litecoin LTC, Ripple XRP and Bitcoin Cash BCH in the nearest future.
Wunderbit is not only a commerce company but also operates a cryptocurrency exchange, where you can buy bitcoin as well as other cryptocurrencies with credit card, bank account transfer or Skrill at best rates and lowest commissions. You can also sell bitcoin and get euro to your bank account through a bank transfer.